From the desk of Vance Howard: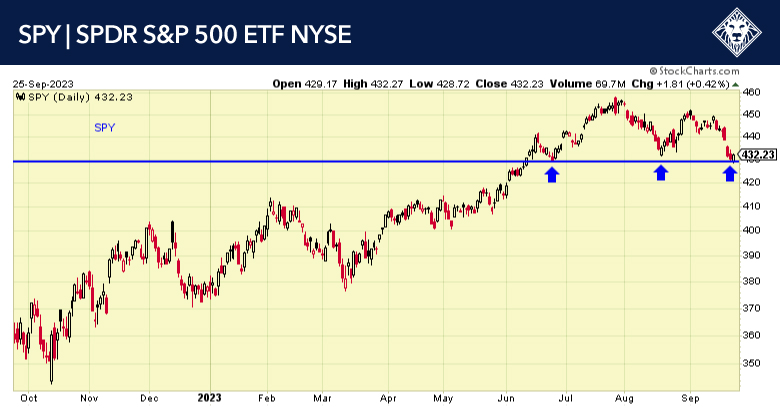 Last week was a central bank-intensive week, with policy decisions coming from major central banks including the Fed, Bank of England, and Bank of Japan. Volatility was primarily centralized around Wednesday's FOMC decision, with the S&P 500 falling 2.8% and US 10-Year surging since then, as markets digested a "more hawkish" 2024 SEP than originally anticipated.
The market sold off last week, which looks to be a classic retest of the previous near-term low. The HCM-BuyLine® is still positive, so pullbacks should be considered buyable, and this pullback is no different. A lot of factors are putting pressure on the markets, such as the Fed's hawkish tone, the United Auto Workers (UAW) strike, and what appears to be another government shutdown, which is getting old by the way. Despite headline risks in the near-term, we remain constructive through year-end as inflation remains key and we believe it is on a glidepath lower. We still see the market having a meaningful rally going into Q4, possibly going up to 4700 on the S&P 500.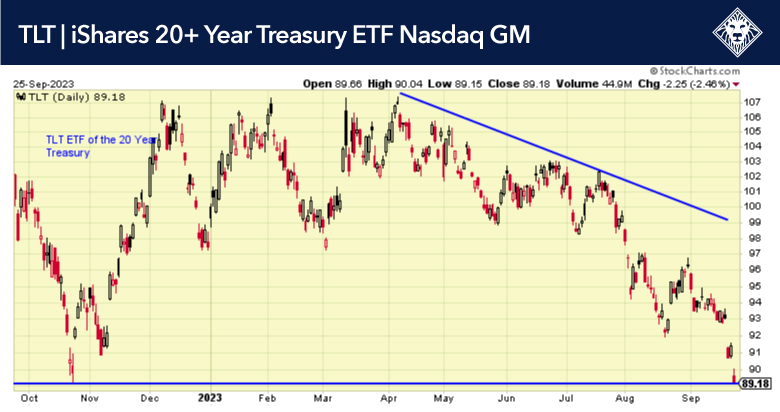 This communication is issued by Howard Capital Management, Inc. It is for informational purposes and is not an official confirmation of terms. It is not guaranteed as to accuracy, nor is it a complete statement of the financial products or markets referred to. Opinions expressed are subject to change without notice. Howard Capital Management, Inc. may maintain long or short positions in the financial instruments referred to and may transact in them as principal or agent. Unless stated specifically otherwise, this is not a recommendation, offer or solicitation to buy or sell and any prices or quotations contained herein are indicative only. To the extent permitted by law, Howard Capital Management, Inc. does not accept any liability arising from the use of this communication. Howard Capital Management is an SEC-registered investment advisor which only does business where it is properly registered or is otherwise exempt from registration. SEC registration does not constitute an endorsement of the firm by the Commission nor does it indicate that the advisor has attained a particular level of skill or ability. Past performance is no guarantee of future results.HCM-022223-WW05 (02/2023)