From the desk of Vance Howard: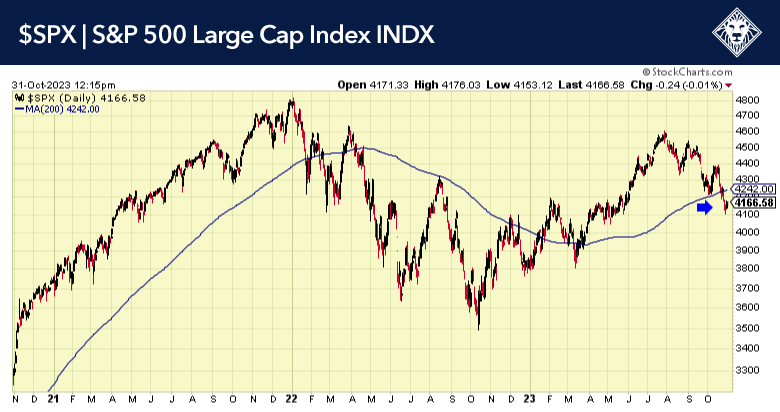 Chart: SPX 3-year daily
The HCM-BuyLine® is negative, and we have reduced exposure to equities by a substantial amount. The equities markets are oversold, so look for a bounce up, which will probably not hold but could be an area to sell into. Early in the year, the market looked to have worked its way out of last year's bear market, but the Fed raising rates 11 times and a Treasury department that seems to be totally lost pushed the market back into a downtrend. It will be a traders' market for the next few months, with volatility being the norm for a while. If the S&P 500 closes below the 200-DMA today, it will have been 5 consecutive days which most see as very bearish.
Sticky consumer services prices in September are raising doubts about the downward inflation path. Housing and super-core annual inflation continue to run much hotter than pre-pandemic, while monthly price changes imply slow progress ahead. With inflation still above the Fed's target of 2.0%, this suggests that monetary policy will likely remain restrictive well into 2024.
The PCE Price Index rose 0.4%, the same as in the prior month, while core prices, which exclude food and energy, increased 0.3%, in line with the consensus estimate. That was up from 0.1% in the month before and was the biggest gain since April. Core goods prices continued to decline, down 0.1%. But housing prices shot up 0.5%, the most in five months. Services ex-energy and housing prices, or the super-core, gained 0.4%, up from 0.1% in the month before.
This communication is issued by Howard Capital Management, Inc. It is for informational purposes and is not an official confirmation of terms. It is not guaranteed as to accuracy, nor is it a complete statement of the financial products or markets referred to. Opinions expressed are subject to change without notice. Howard Capital Management, Inc. may maintain long or short positions in the financial instruments referred to and may transact in them as principal or agent. Unless stated specifically otherwise, this is not a recommendation, offer or solicitation to buy or sell and any prices or quotations contained herein are indicative only. To the extent permitted by law, Howard Capital Management, Inc. does not accept any liability arising from the use of this communication. Howard Capital Management is an SEC-registered investment advisor which only does business where it is properly registered or is otherwise exempt from registration. SEC registration does not constitute an endorsement of the firm by the Commission nor does it indicate that the advisor has attained a particular level of skill or ability. Past performance is no guarantee of future results.HCM-022223-WW05 (02/2023)